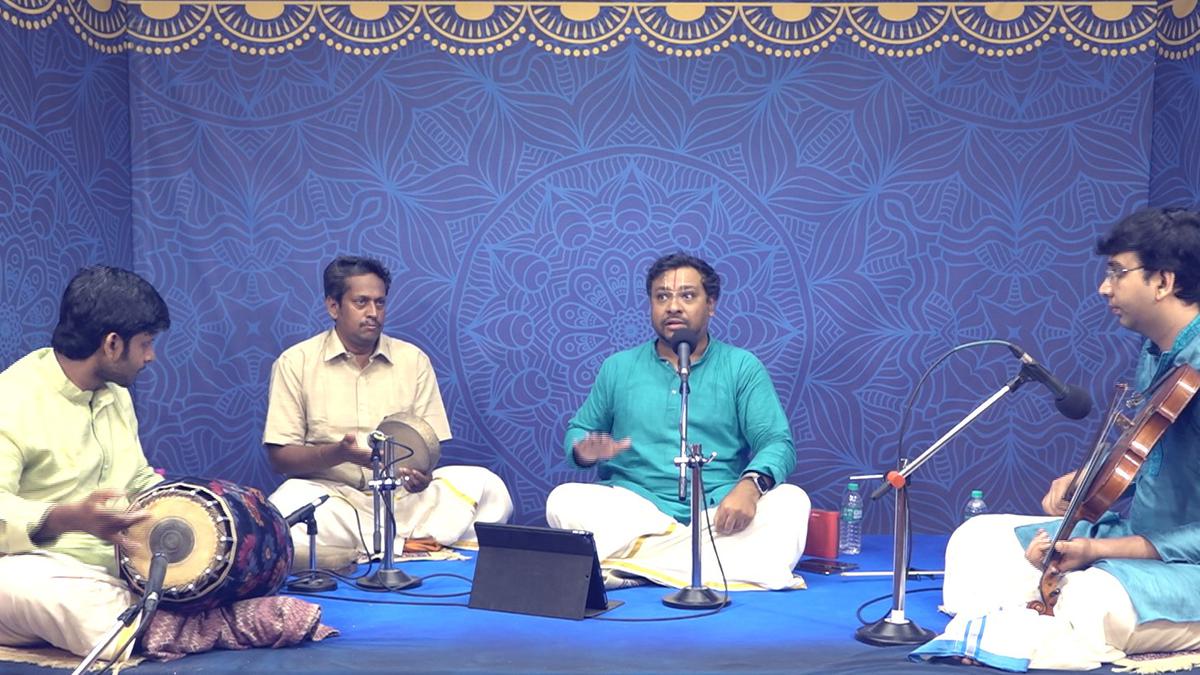 At a current pageant, Mudhra featured some younger artistes, who offered Tamil compositions. Akshay Padmanabhan, alongside together with his crew of musicians comprising Chidambaram Badrinath on the violin, N.C. Bharadwaj on the mridangam and Venkatramanan on the kanjira took up a various set of songs that encompassed a variety of Tamil composers throughout time intervals — beginning with Kulashekara Azhwar and Kambar to vaggeyakaras like Prof. T.R. Subramaniam.
Akshay started the kutcheri with TRS's Hamir Kalyani varnam 'Senthil Vaazh', singing it in each kaalams. This distinctive varnam that reveals the efficiency of a seemingly mild Hamir Kalyani (at occasions with out its intrinsic kaarvais) supplied an thrilling begin. Following a quick Nattai alapana, Bharathiar's 'Ganapathi Thaalai' was offered. Some participating kalpanaswaras that had playful shades of Tyagaraja's 'Jagadanandakaraka' had been sung by Akshay.
Mature accompaniment
Pantuvarali was the vocalist's selection as a prati-madhyama sub-main. Akshay's alapana stood out for its sharp akaarams and briga utilization. Violinist Badrinath matched as much as Akshay by way of creativity, exploiting the symmetry of the raga to convey out some distinctive phrases. Surprisingly, a set of verses from Vallalar's Thiruvarutpa was offered in Adi tala. This piece in Pantuvarali 'panniru kanmalar' was tuned by Akshay's guru P.S. Narayanaswamy. The composition, set in Tisra gati naturally facilitated Akshay to insert some gildings within the type of brigas and micro sangatis. The neraval and swaras at 'En iru kan maniye', particularly in mel kaalam had been full of vitality, motivating Bharadwaj and Venkatramanan to chip in with their mathematical abilities when Akshay tried some kanakkus. Certainly, he left the viewers wanting extra!
Akshay went on to sing Arunachala Kavi's 'Arivaar yaar unnai', a chowka kaala piece in Mukhari earlier than taking on 'Thaaye thripurasundari' in Shuddha Saveri. Whereas vocalists often take up kalpanaswaras on the higher shadjam (at 'Thaye') that comfortably begins at samam, Akshay adventurously opted to land his swaras at 'Sharanam'. He splendidly took on the problem of ending swaras on the decrease rishabham, bringing out some flavourful kanakkus that blended in with the MPD phrase to not make the endings sound repetitive. As soon as once more, this prompted the percussionists to tail the musicians with a lot involvement.
An elaborate Thodi
The primary raga Thodi was dealt with in an exhaustive style as each Akshay and Badrinath devoted about ten minutes every to elaborate the raga. The alapana was constructed meticulously by Akshay, exploring the evolution of every swara within the raga. The spotlight was the singing of long-winding phrases that travelled throughout sthayis, however promptly circled again to centre themselves firmly round a selected swara. Papanasam Sivan's 'Kundram kudi konda velava' was offered with neraval and kalpanaswaras. The swaras represented a plethora of prospects, as Akshay studded them with imaginative karvais and kanakkus.
The post-main part started with a viruttam 'Nanmaiyum selvamum' in Ragamalika from the Kamba Ramayanam, which was adopted by 'Mannupugazh kosalai'. An Ambujam Krishna piece 'Kannanidam' and a thillana in Sankarabharanam by Ponnaiah Pillai supplied a becoming finale to the live performance.