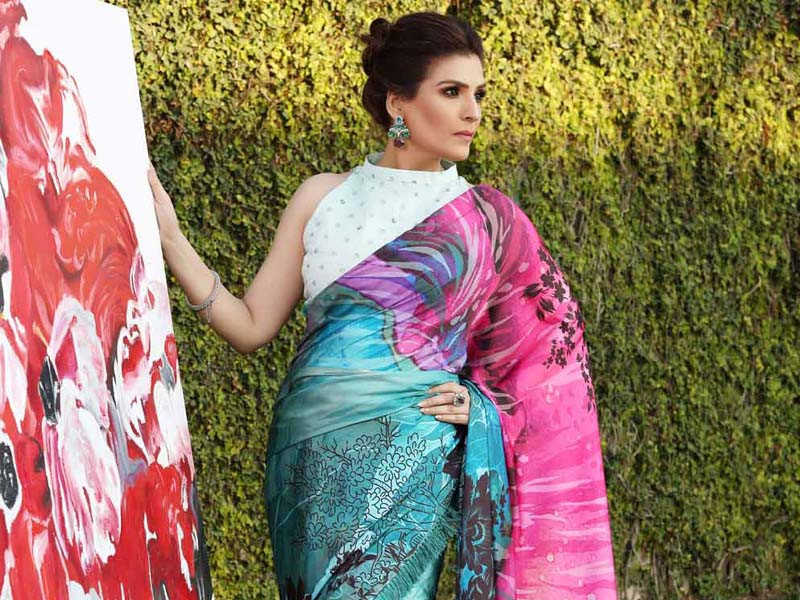 Infinitely glamorous and the epitome of traditional class is what the model Nayab stands for. Presenting Jahan Ara- an unique version of luxurious unstitched sari assortment. Eight stunning designs crafted from the very best high quality of organza, charmeuse silk and khaddi slub silk that includes subtle print in daring and pastel hues. The gathering landscapes an array of decorative embroideries, meticulously rendered sew by sew additional adorned with 3D hand carried out gildings using pearls, crystals, sequins and zardozi work.
TIYA
Layers of printed butter cream Charmeuse satin silk harking back to Italian gardens set the bottom for modern-day ensembles. The shirt is adorned with thread and sequin work embedded with heavy handwork incorporating pearls, crystals, beads and sequins; good for any night soirée.
Kayseriya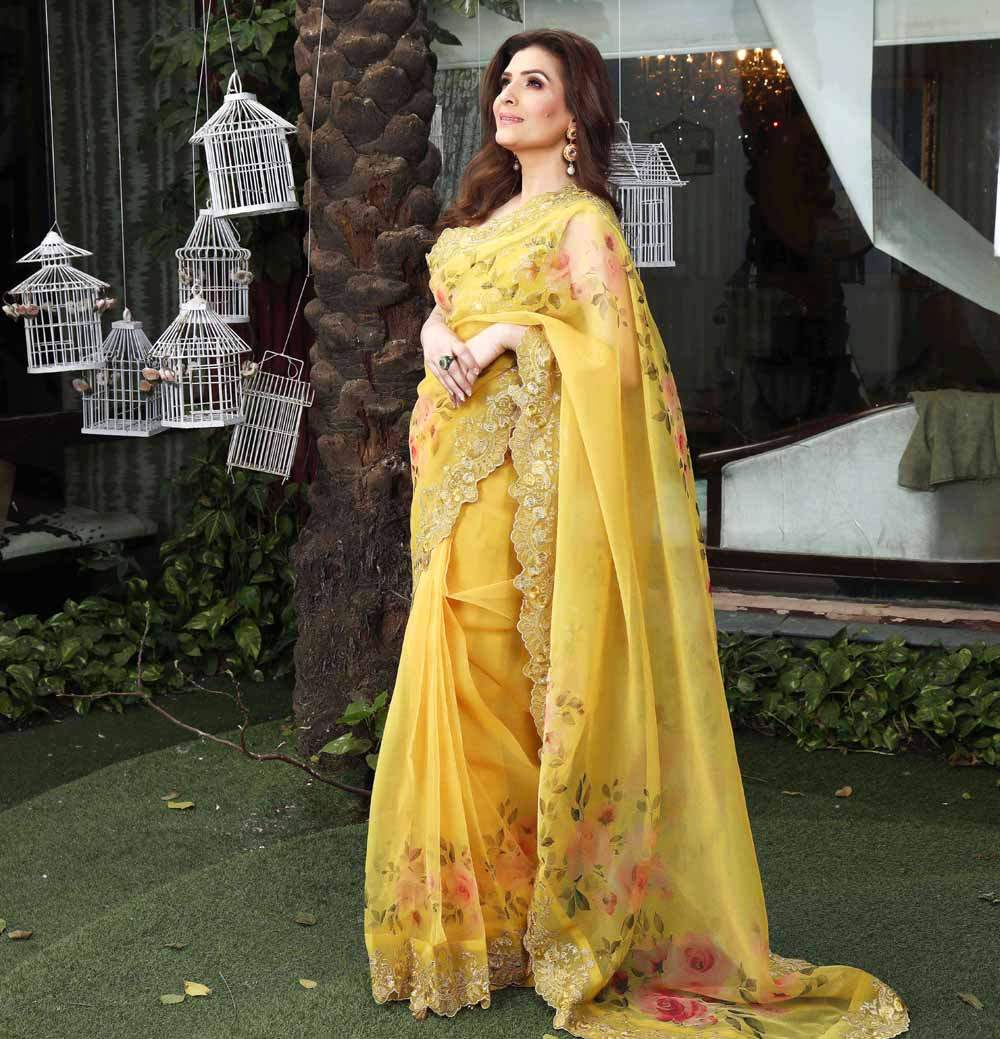 Like a secret backyard,beautiful flora stretch out on a heat ochre canvas with hints of coral, tangerine and salmon peaking out in an ideal concord in 'Kayseriya' is framed with a scalloped border. The sari is paired with an elaborated shirt with detailed tilla and Resham work laden with 3D handwork in pearls, crystal, sequin and beads.
Mira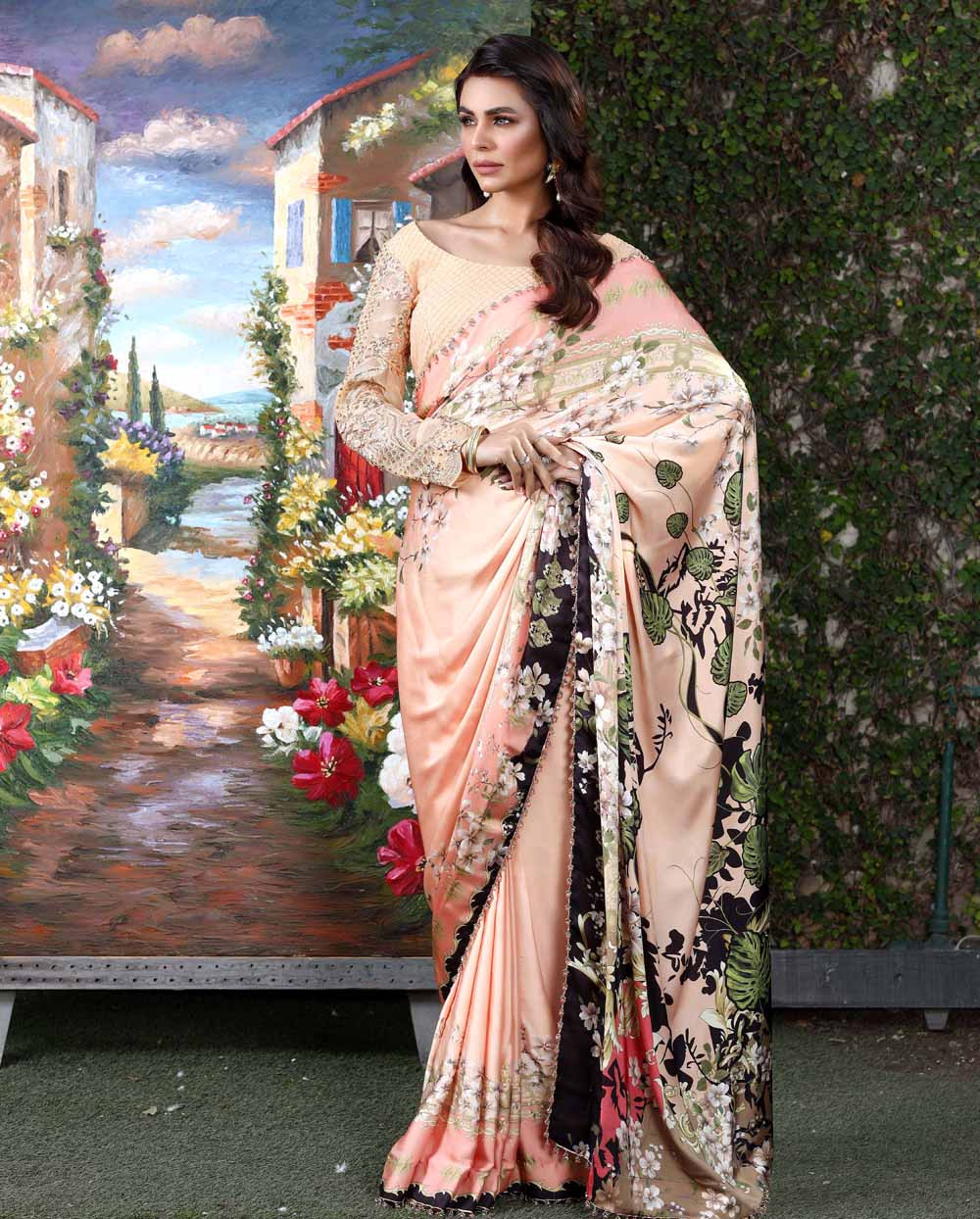 Delicately crafted digitally printed 'Mira' options blooming florals layered over a gentle coral canvas to create an awe-inspiring, glamourous look with accents of ivory, black and moss. The artsy print is paired with luxurious organza shirt expertly illustrated with vivid floral embroidery, Intertwining the essence on the diaphanous material of organza 'Mira' options intricate handcrafted shirt luxuriously laden with iridescent sequin,glowing crystal, ribbon rosettes and oyster pearls creating an ethereal influence. This stately look is a will need to have!
Dhanak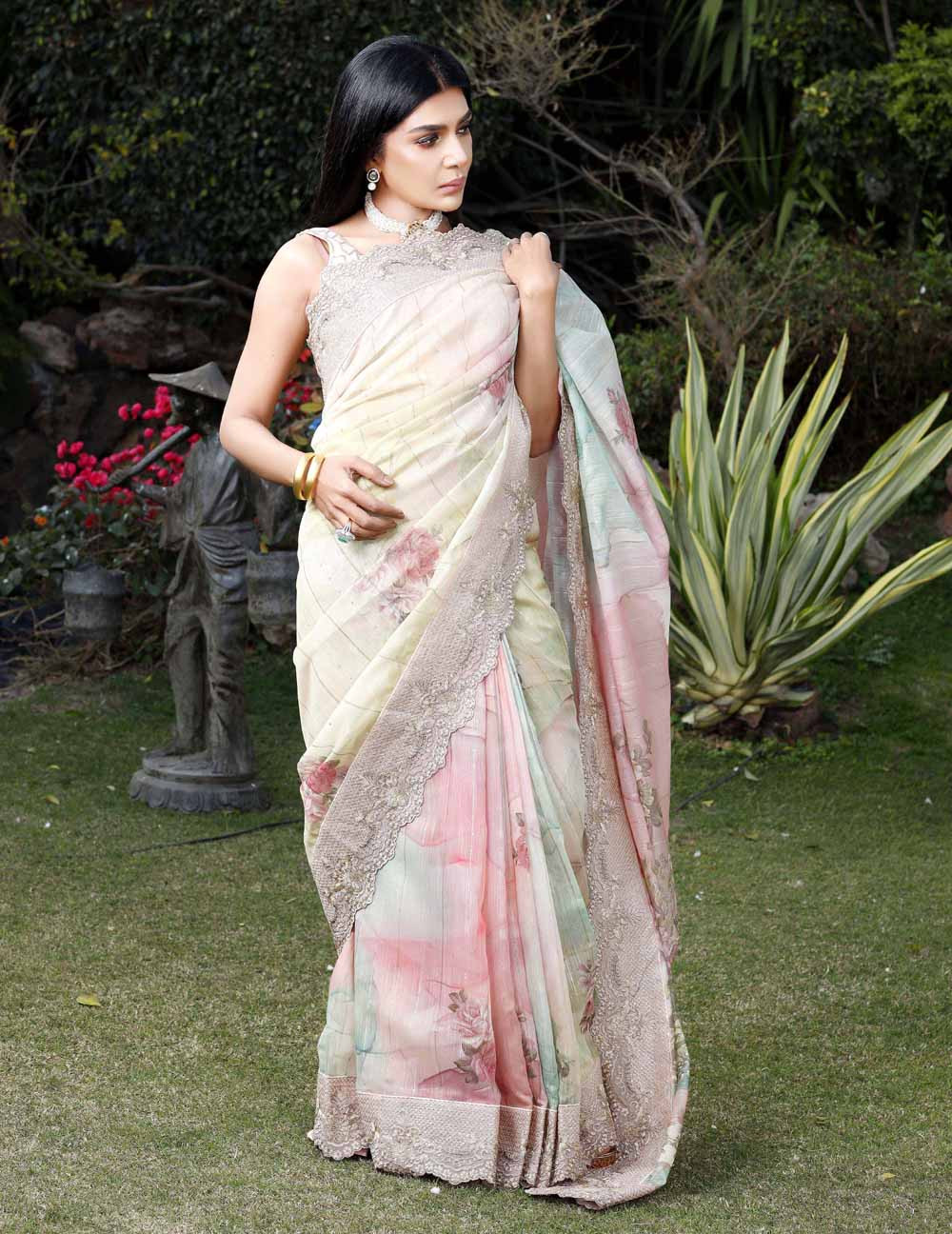 A classically elegant look with a singular, Elysian color palette, that includes French floral patterns that meander throughout a blush pink canvas in shades of crimson, gentle sea foam, moss, ivory and marvelous pink, framed with embroidered sequins embellished border. The sari is paired with salmon pink shirt with delicate dainty gildings, this gorgeous ensemble options hand positioned sequin, crystal, pearls and zardozi work making a magical composition.
MEHKA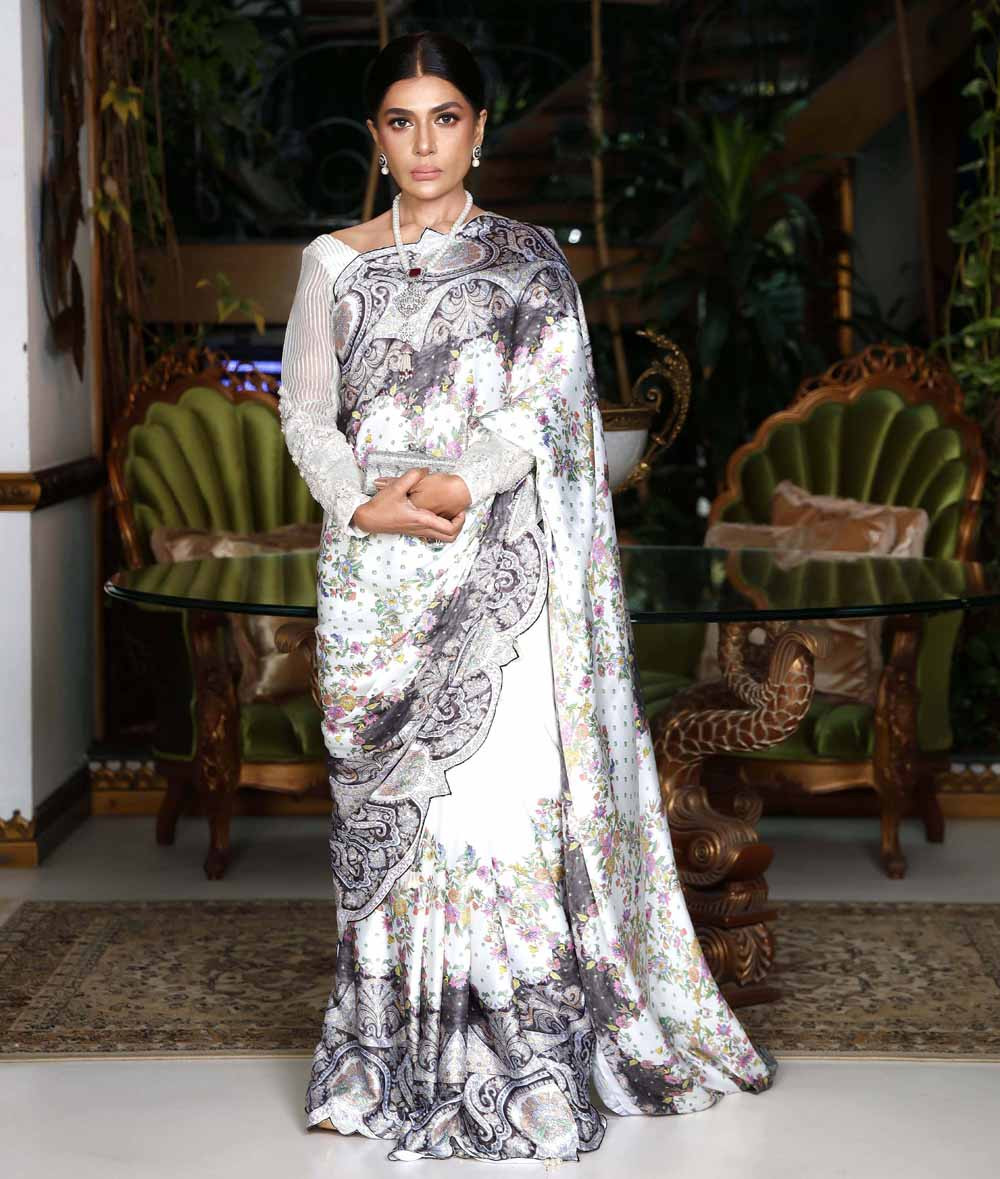 Luminous decorative paisley and floral print specified by the shades of ivory and charcoal gray with tinges of moss and salmon pink to intensify the general composition. A printed charmeuse silk sari is effortlessly draped and paired with a closely embroidered shirt. The sleeves of the shirt are hand embroidered with matching sequins, crystals, pearls and beads. The distinctive and versatile ensemble is ideal for the seasonal festivities..
JAIPUR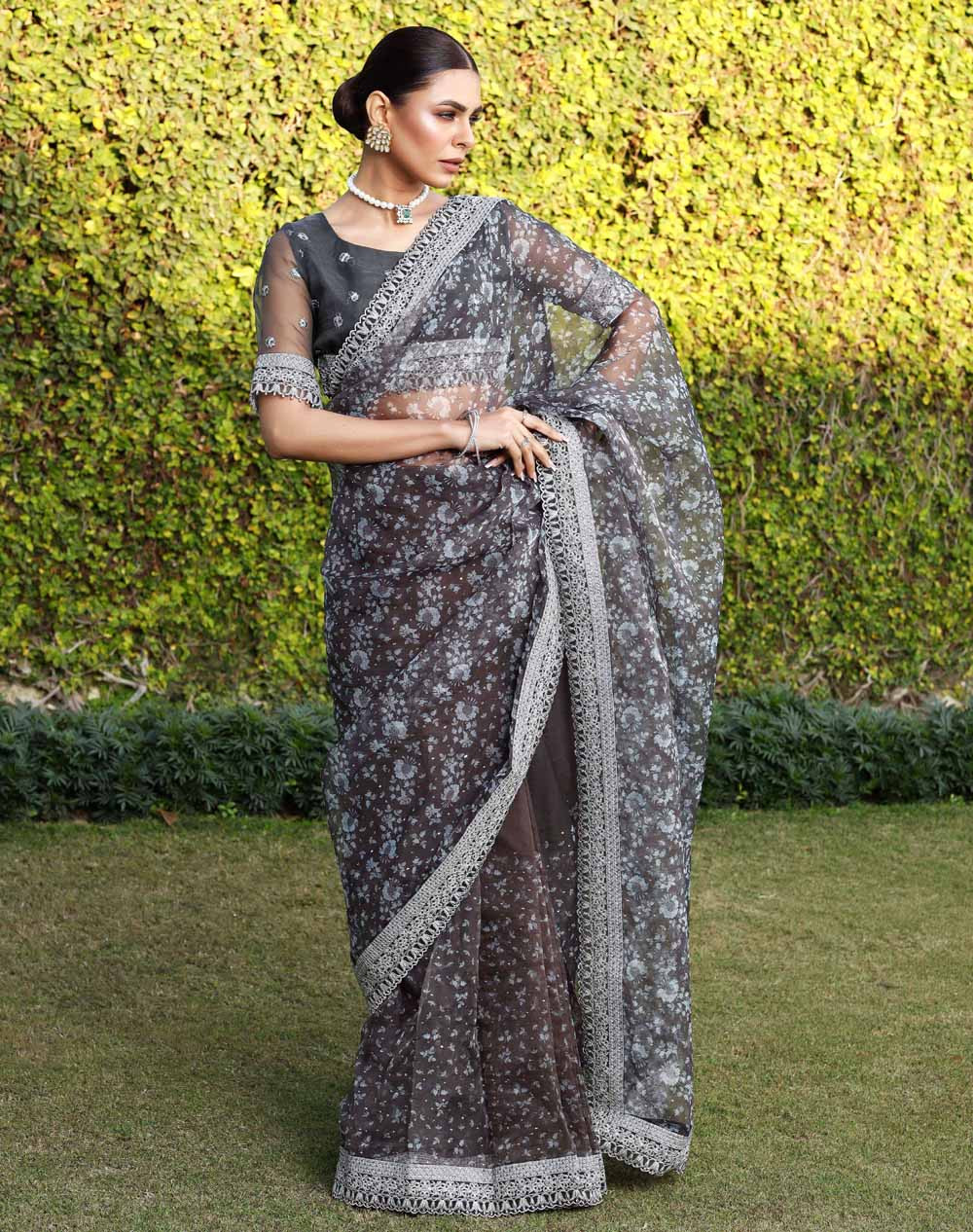 In a sublime ode to custom, a fantastically crafted sari, rendered in charcoal gray, is intricately embellished with handmade mukesh. The sari is laced with a silver border highlighted with sequins and tilla. The flowing saree is paired with a closely embroidered shirt with a lush encrusted border; this look is harking back to royal regalia and excellent alternative for any formal event.
AYRA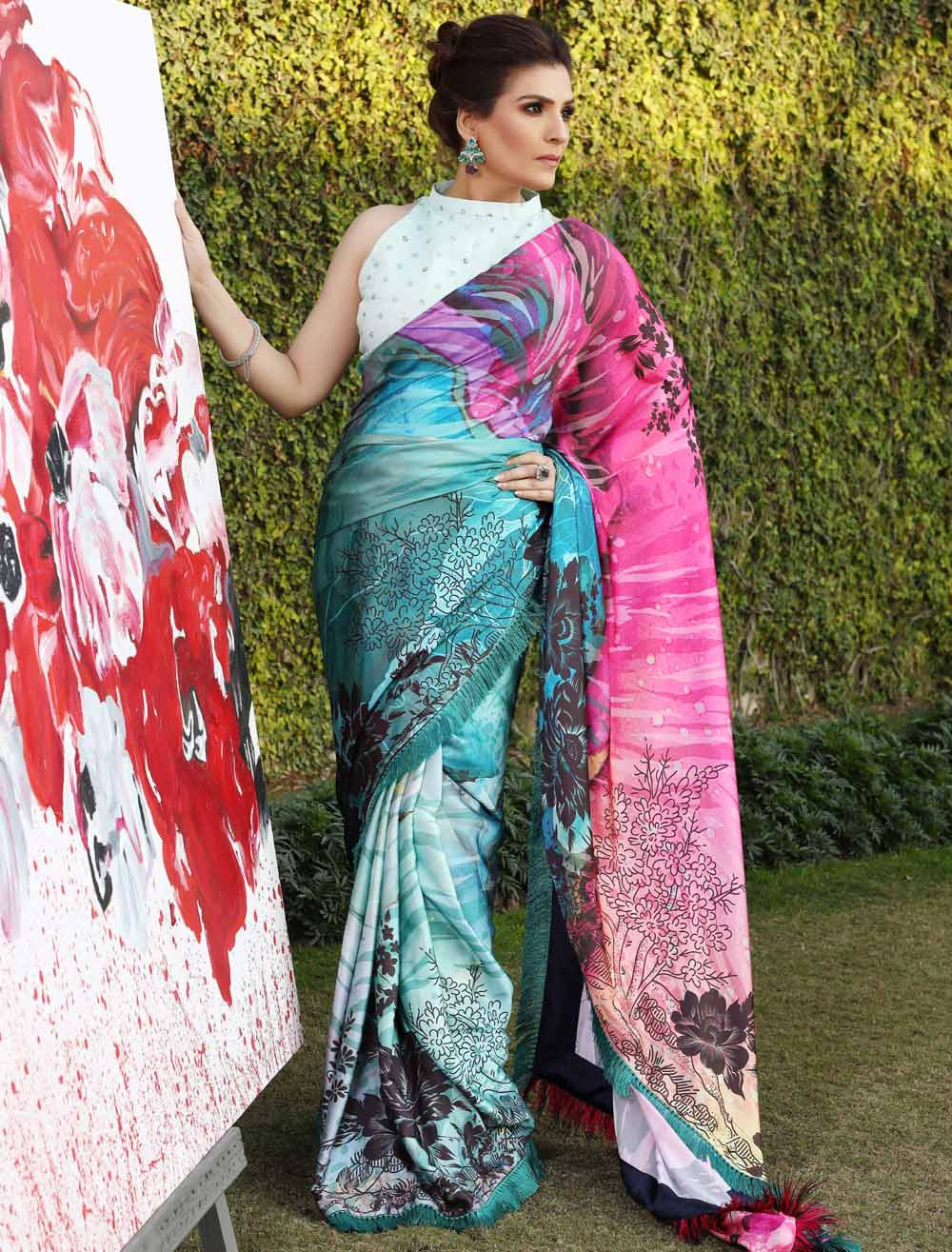 Exude beautiful female grace within the marine life 'Ayra', depicting vivid hues of aqua's with dashes of cerulean, azure, crimson and amethyst on plush satin silk. Gorgeous corals and sensual flora come collectively in an explosive composition making this the right stand out look. The sari is paired with a gentle aqua blue shirt with delicate embroidery and complex handwork embedded with sequin and crystals.
ASHNA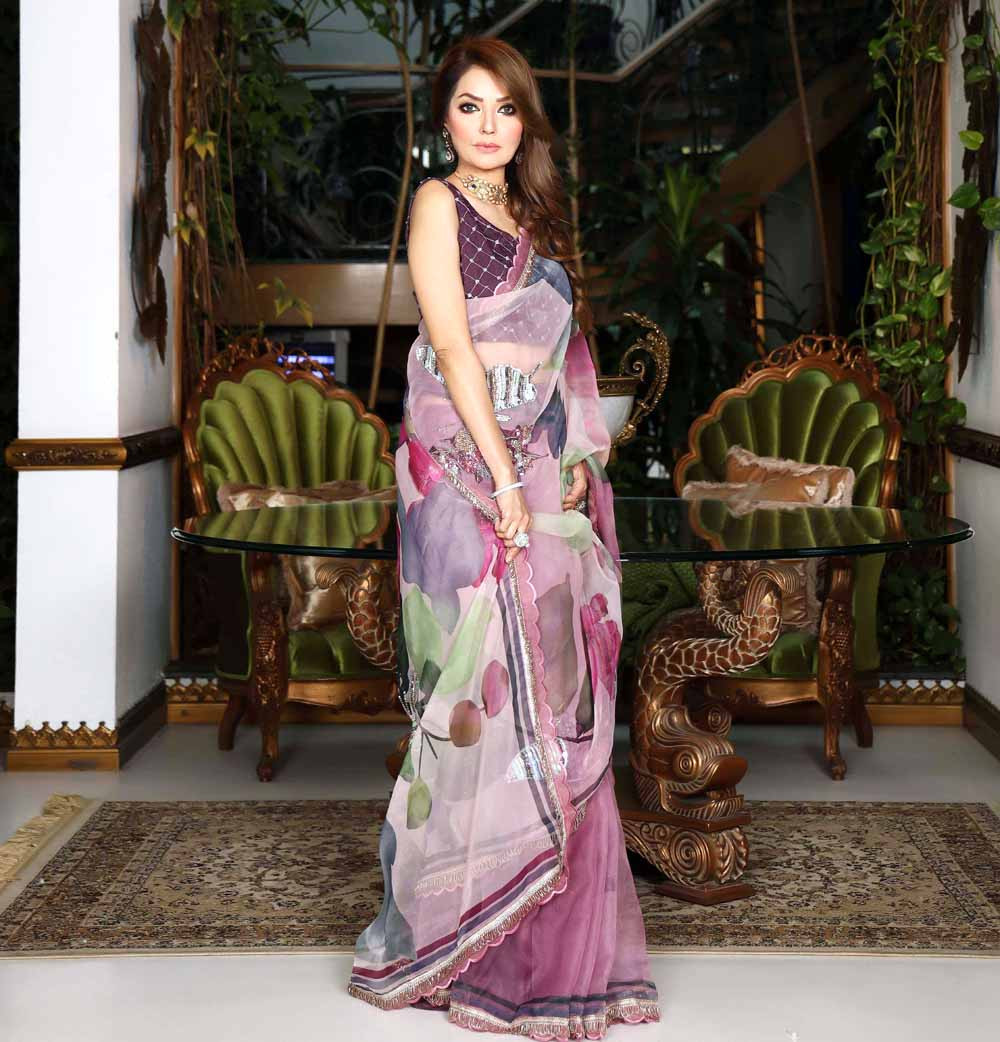 A dreamy composition is etched with nice finesse and element onto a deep Amaranth pink canvas in various shades of mauve pink. 'ASHANA' Is additional accentuated with shaded sequin and bead work to create a masterpiece that may stand out in each formal and festive gathering. It's paired with an embroidered shirt worked with shades of metallic silver tilla and sequin.